Environmental protection at Aurubis Finland Oy, Pori site
The Aurubis Finland production site is located in western Finland in Pori on the Kokemäenjoki River. The copper foundry and rolling mill are in a copper industrial park where other companies working with copper are located. The area of the site is about 78,000 m².
The rolling mill in Pori is a state-of-the-art hot and cold rolling mill, and it is fully integrated from casting to finishing. In 2018, our 260 employees produced 38,100 t of strip, sheet, plate, and circles as well as 54,400 t of shapes, of which more than half was for internal use. The selection of high-quality products covers a wide range of copper and copper alloys. Copper scrap is the main input for production; recycling materials account for around 75 % of the raw materials used in the foundry. The waste heat that arises in the foundry is sold to the local power plant Pori Energia. The waste heat produced during the hot rolling process is reused to preheat combustion air during processing.
Emissions of dust and volatile organic compounds (VOCs) are reduced to a minimum using afterburning and filters. Cooling water in the smelting process circulates in a closed system. Process water from the mill is treated at an external service company. Copper and oil residues are separated from cooling water and some process water. Last year, more than € 260,000 was invested in measures that improve environmental performance.
Environmental Protection - facts & figures
Air emissions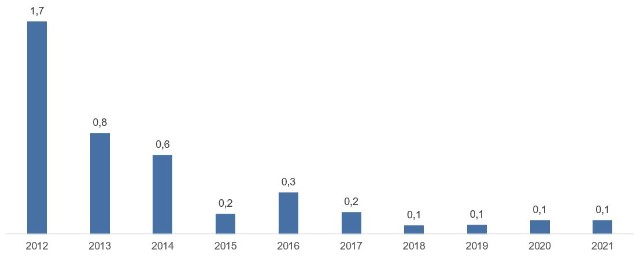 At the beginning of January 2013, a project to improve the degree of filter house utilization started and improved the degree of utilization about 5 % during 2013. The metal emissions in exhaust gases have significantly decreased over the years..
Energy consumption

Propane consumption decreased although production increased during 2018.
Environmental measures that have been implemented ("Milestones")
Air emissions
Recuperator: Energy consumption and VOC level decreased (completed January 2018)
CO-O2 gas analyzer (transferable) (completed May 2018)
Water emissions
Copper: Raw material hall and new scrap container with electro-mechanical opening of covering plate
(completed November 2018 - 2019)
Current important environmental targets and measures
Air emissions
New filters in filter house
Date:
Status:
Water emissions
Legionella treatment facilities
Date:
Status:
More pH measurements in rolling mill
Date:
Status:
Waste management
New press waste bins for paper and energy waste (cooperation with neighboring company)
Date:
Status:
Extend emulsion usage time at cold rolling
Date:
Status:
Energy
Reduction of district heat consumption
Replacing it with internal waste heat from launder gases in the foundry. First step is to use the waste heat from launder gases for heating water circulation
Next steps:
Sensor installation in December 2019. Use will start in January 2020
Status:
Sensor installation completed
Reduction of propane consumption: pre-heating furnace, change of heating program
Next steps:
Status:
Two new CO-O2 analyzers for controlling the use of propane
Next steps:
Installation of the analyzers in January - February 2020
Status:
New burner for adjusting the right temperature for preheating air
Next steps:
Status:
Reduction of diesel consumption: replacing diesel forklifts with electric forklifts
Next steps:
First forklift in 2016, second 2018, third 2020
Status: