Aurubis – Metals for progress
With our metals, we create the foundation for technologies of the future. Being smart and connected doesn't work without metals. Whether renewable energies, electric vehicles, digitalization, or urbanization, the demand for metals will continue to rise. For more than 150 years, Aurubis has produced copper and other metals that are crucial for modernization and for the ongoing development of our lives over the next decades. As a result, the company considers itself a real multimetal provider.
What does Aurubis stand for?
Find out what defines us in ​our corporate video.
Um das video zu sehen den QR code scannen
High-level metallurgy
Thanks to our metallurgical know-how, state-of-the-art facilities, and groundbreaking environmental standards within our industry, Aurubis is a leading global copper recycler and provider of non-ferrous metals. Our main area of expertise is the processing and optimal utilization of complex concentrates and recycling raw materials to produce metals of the highest purity.
In addition to our main metal, copper, these include precious metals like gold, silver, and platinum group metals, but also metals such as lead, nickel, tin, zinc, and selenium.
We produce more than 1 million t of copper cathodes with 99.99 % purity in our European smelter network each year. The cathodes can be sold on the metal exchanges, though we process some of them into a variety of intermediate products made of copper and copper alloys as well. These products include continuous cast wire rod, shapes, profiles, and flat rolled products. Additional by-products such as sulfuric acid, iron silicate, and synthetic minerals round off the product portfolio.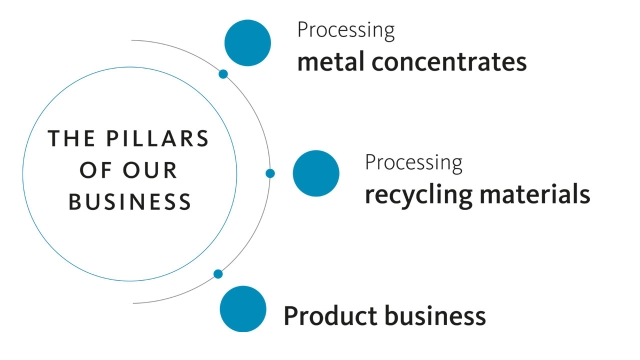 Sustainability as a mindset
Sustainability plays an important role in all of our activities. Aurubis is already an industry leader in energy efficiency and environmental protection. However, we won't stop with these achievements, but will continue working on reducing emissions. We've set a goal of making our production CO2-neutral by 2050, and we're working on new technologies to achieve this target, such as the use of hydrogen in production.
"Aurubis responsibly transforms raw materials into value": following this maxim, sustainable conduct and business activities are integral aspects of our corporate strategy. Our strategy emphasizes stewardship of resources and the environment, together with an economically sound approach along our supply chain and a sense of responsibility towards our employees and society. We consolidate our social engagement under the "together we care" initiative with local, national, and international projects in the focus areas of knowledge, environment, and participation.
WE at Aurubis
More than 53 nationalities are represented among the Aurubis employees – from A (Afghan) to V (Vietnamese). Aurubis doesn't only stand for multimetal, but for real diversity. We need well-trained, motivated employees for our projects and initiatives – whether in production, research, or management, from the foreman at the furnace to the data scientist. Our company has a broad range of fields. If you're looking for a secure and strong employer, take a look at our career page.
Passion for metallurgy – for more than 150 years
Aurubis was founded as a stock corporation in 1866. Following its IPO in 1998 and national mergers and international expansions in the years thereafter, Aurubis is now an international group with about 7,100 employees at production sites in Europe and the US, as well as an extensive service and distribution system in Europe, Asia, and North America.
Our plants are located in Belgium (Beerse, Olen), Bulgaria (Pirdop), Germany (Emmerich, Fehrbellin, Hamburg, Lünen, Röthenbach, Stolberg), Italy (Avellino), Finland (Pori), Spain (Berango), and the US (Buffalo).
Facts and Figures
Founded as a stock corporation in 1866

About 7,100 employees in over 20 countries on three continents, headquarters in Hamburg (DE)

Annual processing volume of approximately 2.4 million t of copper concentrates and around 1 million t of recycling materials and blister copper

Annual output of about 1.1 million t of copper cathodes, 2.3 million t of sulfuric acid, and 1.7 million t of copper products in Europe and the US

> € 600 million has been invested in environmental protection measures at Aurubis since 2000

Our copper cathodes contain at least 99.99 % copper – this high purity guarantees our products' exceptional quality

Aurubis shares are part of the Prime Standard Segment of the German Stock Exchange and are listed in the MDAX, the Global Challenges Index (GCX), and the STOXX Europe 600