Press Release
Largest industrial heat supply system in Germany receives coveted Energy Efficiency Award
Hamburg | Monday, November 26, 2018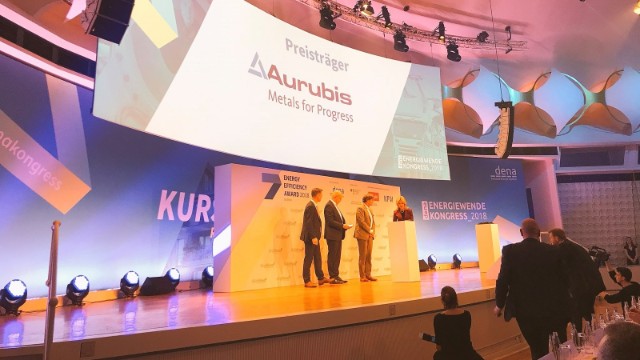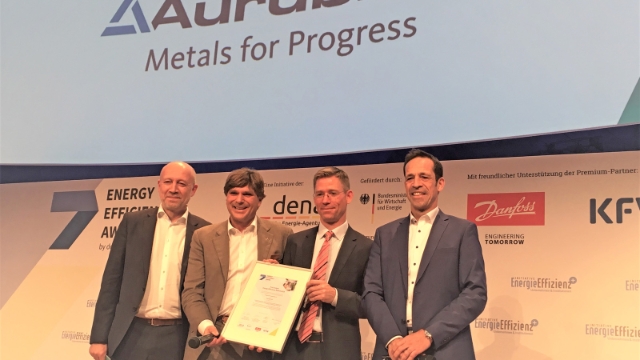 The delivery of CO2-free industrial heat from Aurubis to Hamburg's HafenCity East neighborhood has received a distinction from the German Energy Agency in the category "Energy Transition 2.0."
The innovative industrial heat project implemented by Aurubis and enercity has received another distinction, this time a prestigious industry award. The project was given the Energy Efficiency Award in the category "Energy Transition 2.0," which the German Energy Agency (dena) awarded today during its Energy Transition Congress in Berlin.
The multi-metal company Aurubis delivers CO2-free heat, which is formed in a sub-process of copper production, through a more than 3.7 km long, newly constructed pipeline from its plant on Hamburg's Elbe island Peute. This allows the energy service provider enercity to supply heat to HafenCity East, a neighborhood that is part of Europe's largest urban development project. The industrial heat project is unique in Germany in terms of scope and complexity; extracting the heat prevents 20,000 tons of emissions of the harmful greenhouse gas each year. In late October 2018, the companies started up the pipeline in the presence of Hamburg's First Mayor Peter Tschentscher and Environmental and Energy Minister Jens Kerstan.
Thorsten Herdan, head of Department II "Energy Policy – Heat and Efficiency" of the German Federal Ministry for Economic Affairs and Energy, presented the award on behalf of the jury. "The external use of the industrial heat makes a significant contribution to the city of Hamburg's climate protection goals," the jury stated in the explanation of its decision. "With the help of industrial heat, the emission level in HafenCity East even falls below the demanding emission threshold stipulated for the heat supply of this new development area."
The German Energy Agency conferred the Energy Efficiency Award for the twelfth consecutive time this year. Peter Altmaier, German Federal Minister for Economic Affairs and Energy, is patron of the prize. Over 100 projects submitted applications in 2018, a third of which were international applications. The industrial heat project implemented by Aurubis and enercity prevailed over 25 other applicants in the award category. The prize is endowed with € 8,000 that is intended to benefit an energy efficiency project.
Contact