Recycling solutions
With our multimetal recycling, we make an important contribution to the circular economy
In the metal industry especially, recycling is a prerequisite for efficient and sustainable business activity. We are well positioned within the metal sector with our main metal, copper, because copper can be recycled over and over again without any loss of quality. Our strategic reorientation to becoming a multimetal company means that we are investing more in recycling processes for precious metals and non-ferrous metals. Consequently, we have set the target in both the company strategy and the Sustainability Strategy derived from it to extract many metals besides copper through recycling, and to make these metals useful for society. In this way, we contribute to a circular economy and thus to the conservation of natural resources beyond our key expertise in copper recycling.
The processing industry is part of both our customer base and our supplier base. Production waste accumulates during these companies' production processes. This includes materials with very high copper contents, which can be used again immediately as input material in copper production. However, we also return other substances to the value cycle in a meaningful way. Stamping waste containing copper and precious metals, alloy scrap, foundry slags, and other industrial residues are just a few examples.
As part of our "closing-the-loop" activities, we build up partnerships to take back valuable materials from our customers.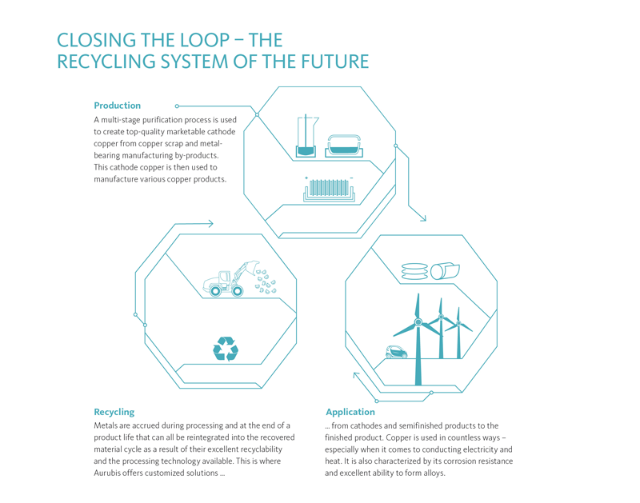 We manufacture new products from recycling materials at different sites within the Group. Our sites in Lünen (Germany) and Olen (Belgium), as well as the Metallo sites in Beerse (Beligum) and Berango (Spain) that joined the Group in 2020, specialize in recycling. They convert the recycling raw materials, which generally contain copper, into high-purity copper and other valuable metals
The Lünen plant is certified through WEEELABEX in accordance with the European series of standards EN 50625. The certificate confirms that waste electrical and electronic devices are efficiently treated and disposed of in a way that prevents environmental pollution and minimizes emissions of harmful substances. Aurubis participated in the development of the standards that preceded the series of standards.
The Metallo plants process more than 350,000 t of complex secondary raw materials each year to recover non-ferrous metals such as copper, tin, and lead, but also metal products such as nickel sulfate solution and zinc oxide. Metallo follows a "zero waste" strategy with the goal of transforming as many scrap materials as possible into valuable products. The company fosters this strategy with its "Furnace of Innovation" approach, recycling increasingly complex raw materials and investing in technological innovations for the refining process. Metallo therefore has a forerunner role in metal recycling and optimally complements Aurubis' similar approach.
The Hamburg, Pirdop, and Olen sites also process recycling raw materials to produce cathode copper and precious metals. Though the primary smelters utilize copper concentrates as their main feed material, they also use copper scrap to a certain extent because it's ideal for process cooling.
Moreover, we have two companies with unique recycling expertise within the Group: Our subsidiary CABLO specializes in recycling cable production waste and end-of-life cable scrap, while E.R.N. focuses on recycling electrical appliances and electronic devices of all kinds.