2030 sustainability targets
Metals for Progress: Driving Sustainable Growth
For Aurubis, responsible business conduct is an integral contribution to securing the company's future. The 2030 sustainability targets establish the framework for this purpose. They are a component of the Aurubis corporate strategy and are divided into the focus areas People, Environment, and Economy.
The 2030 sustainability targets establish the main areas of activity, targets, and action plans for the coming years. Aurubis has systematically structured and expanded its sustainability activities in the past several years – from sustainability reporting to the development of the first Sustainability Strategy in 2013.
We report the status of target achievement annually in our Non-Financial Report and 2023 Sustainability Report.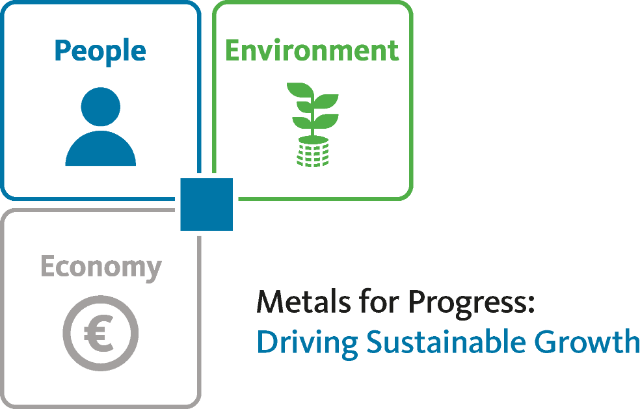 Aurubis – 2030 sustainability targets
Economy
Action area
Ambition
2030 targets
2022/23 interim targets1
Governance and ethics

We uphold the principles of responsible corporate governance

Recycling solutions

We offer comprehensive value chain solutions for the circular economy

50% recycled content in copper cathodes

Responsible supply chain

We minimize negative impacts on people and the environment in our supply chains.

The improvement plan implemented has significantly reduced the risk for any supplier identified as high risk

Human rights, environmental protection, and safety clauses in 100% of long-term contracts for primary raw materials
Continued rollout of Aurubis Business Partner Screening » Copper Mark certification of four sites
Environment
Action area
Ambition
2030 targets
2022/23 interim targets1
Energy and climate

We will be carbon-neutral well before 2050.

50% absolute Scope 1 and Scope 2 emissions (base year 2018)
24% Scope 3 emissions per ton of copper cathodes2 (base year 2018)

ISO 50001 at all production sites

Environmental protection

We produce with the smallest environmental footprint in our sector

-15% specific dust emissions in g/t of multimetal copper equivalent (base year 2018)
-25% specific metal emissions to water in g/t of multimetal copper equivalent (base year 2018)

ISO 14001 at all production sites
Reducing specific metal emissions to water by 50% in g/t of copper output (Cu) (base year 2012)
Reducing specific dust emissions by 15% in g/t of Cu output (base year 2012)
People
Action area
Ambition
2030 targets
2022/23 interim targets1
Health and safety

We prevent work-related accidents, injuries, and illnesses (Vision Zero)

ISO 45001 certifications at all production sites

Future-oriented employer

We create a work environment for close collaboration and promote diversity and commitment. We passionately work for the progress of the company and society.

100% of the relevant employees are trained on unconscious bias
>40%3 of employees take part in job rotation or job shadowing, with diversity being promoted at the same time
At least 75%3 of the employees surveyed participate in pulse checks and feedback measures

Development of a diversity action framework

Training and education

We provide high-quality vocational training and invest in forward-looking qualifications for employees.

100% fulfillment of the continuing education allotment in hours (continuing education allotment: 18 hours per year for each employee)

18 training hours per employee per year on average

Social engagement

We are a reliable partner locally and internationally, one that makes a long-term contribution to a livable environment.

90% long-term partners (percentage of total budget)
0.8% of operating EBT (five-year average) as annual budget for social engagement, but at least € 2 million

Developing impact monitoring to evaluate projects supported