Aurubis Bulgaria awarded two special prizes in the latest edition of the FameLab All Stars popular science competition
Bulgaria | Monday, July 26, 2021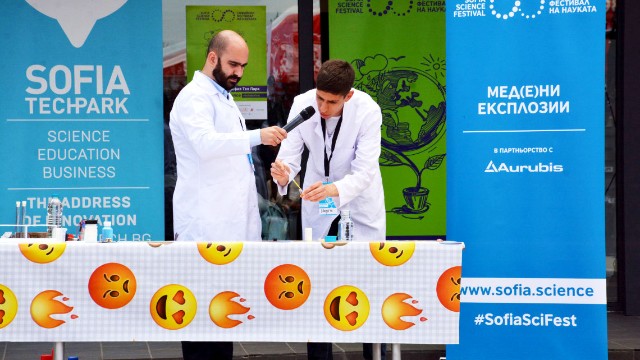 The company continues its partnership with the Sofia Science Festival.
Aurubis Bulgaria was once again a main partner to the Sofia Science Festival. This is the biggest festival aimed at promoting science among young people.
Many interesting and highly relevant topics were included in the programme. The chemists from the Rapid Explosion Force at the Department of Chemistry of St. Kliment Ohridski Sofia University, in partnership with Aurubis Bulgaria, made live presentations under the motto Copper Explosions. Young scientists showed how copper could glow in blue and green, how dangerous sulfuric acid was, what on earth iron silicate would be and why it was an enemy to snow. The other highlights of this year's competition were decarbonisation, energy efficiency and high technologies.
As the tradition goes, the finals of the international FameLab competition took place on the last day of the Science Festival. This year the competition was named All Stars and it involved talents who had outstanding performances at its previous editions. The participants had only three minutes to impress the jury and the audience by explaining a complex scientific topic in a comprehensible and attractive manner. The finals of the FameLab competition took place at the Sofia Science Festival organised by the British Council Bulgaria.
Aurubis Bulgaria traditionally awards a finalist with a cash prize and a visit to the smelter in Pirdop. This year, on the occasion of the 10th anniversary of the Research and Development Division, Dr. Milen Kadiyski , head of section in the division, conferred the award to two participants rather than just one: Alexander Atemin who ran the competition in the Biology category in 2018 and Ivayla Sopotenska who competed in the Food Technologies category in 2014 and 2016. The prize included a visit to the copper plant in the Sredna Gora area where Alexander and Ivayla had the opportunity to see the technological processes on the spot under the guidance of Dr. Kadiyski.
The Sofia Science Festival was a guest to St. Paisyi Hilendarski Secondary School in the town of Zlatitsa. Mr. Nasko Stamenov and Mr. Boris Yanachkov, chemists from the Rapid Explosion Force at the Department of Chemistry of St. Kliment Ohridski Sofia University held an open lesson with students from grade seven. The attractive presentation by those ambassadors of science showed chemical reactions related to the studies in chemistry. The experiments included chemical traffic lights, a smoke machine and the combustible mixture of LPG and soap.
The Sofia Science Festival is organised by the British Council in partnership with the Ministry of Education and Science, universities, research units, embassies, and cultural institutions.