BlueBrass®
lead-free. machinable. conductive.
Under the BlueBrass® brand name, Aurubis Stolberg is developing an alloy family that excellently combines the current standards in the electrical, automotive, and consumer industries in terms of machinability and cost-effectiveness with the increasing demand for lead-free products.
All alloys in the BlueBrass® family meet the requirements of the EU directives on lead-free products.
All BlueBrass® alloys are individually adapted to the customer's product and process requirements.
BlueBrass® is suitable for sanitary applications.
BlueBrass® is available as semi-finished strip and wire, as well as in rod format.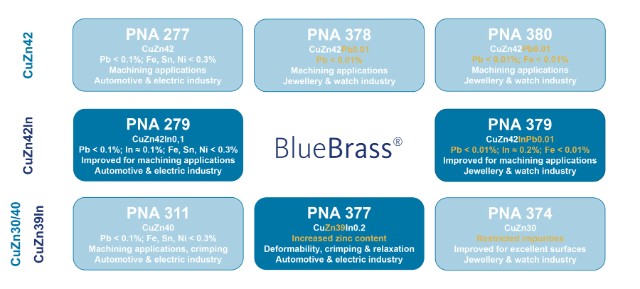 Properties
BlueBrass® is a lead-free brass alloy
with a selectively adjusted proportion of α- and β-phases, which are adapted to the customer's products and processes in combination with precipitation hardening.
with good cutting properties for machining processes such as turning, milling, drilling, etc.
with improved technological properties, e.g., tensile strength, cold and warm formability, crimpability, torque characteristics, and relaxation resistance.
with physical properties comparable to leaded machining brass, such as corrosion resistance and conductivity.
with environmentally compatible and non-toxic alloying elements that can be mixed with existing recycling circuits.
Lead-free
BlueBrass® is based on alloying elements customary in brass.
In the alloyed parts, the elements contained are miscible in every brass foundry with chips from alloys currently in use.
Guidelines and legal specifications already define the use of lead-free alloys in many areas. These regulations are monitored and made more stringent in shorter and shorter intervals. It is thus expected that the RoHS (Restriction of Hazardous Substances in Electrical and Electronic Equipment) and the ELV (Directive on End-of-Life Vehicles) will set new parameters at the end of 2022. BlueBrass® already fulfills the set requirements, without exemptions.
Machinable
BlueBrass® is characterized by good chip control.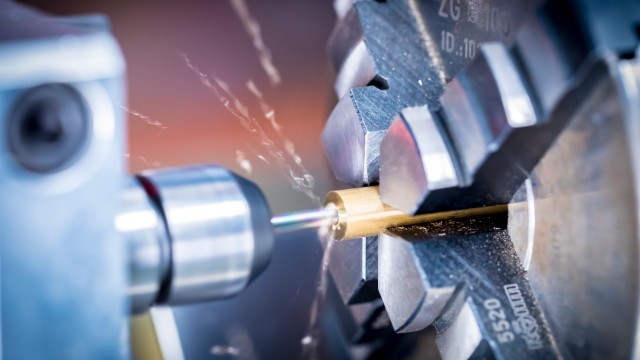 A significant feature of the alloy is that its copper percentage by weight is smaller than 59 %. The moderate alloying of further elements leads to a two-phase α/β microstructure. The material was developed for machining on account of its optimal arrangement of the phases in combination with some precipitations (Fe, Si, Mn).
Conductive
The good electrical conductivity of BlueBrass® enables optimal utilization in current-carrying components.
Workability & corrosion resistance
BlueBrass® opens up new possibilities for component manufacturing with the combination of high strength and good workability together with good machinability.

The stress cracking corrosion resistance (inspected in accordance with EN 14977:2006) and the dezincification resistance (inspected in accordance with DIN EN ISO 6509:1995) of BlueBrass® are comparable to those of conventional CuZn39Pb3.
Alloys (all EU RoHS compliant without exemption)
Alloy
Data sheets
Stolberg
Automotive
Recommended application areas
Electrical engineering

Watch, jewelry, and

accessories industry

General mechanical engineering
CuZn42
DE/EN
PNA277
x
x
x
CuZn42ln0.1
DE/EN
PNA279
x
x
x
CuZn42Pb0.01
DE/EN
PNA378
x
x
x
x
CuZn42Pb0.01
DE/EN
PNA380
x
x
x
x
CuZn42ln0.2Pb0.01
DE/EN
PNA379
x
x
x
x
CuZn40
DE/EN
PNA311
x
x
x
CuZn39ln0.2
DE/EN
PNA377
x
x
x
CuZn37ln0.2
DE/EN
PNA376
x
x
x
CuZn37ln0.2Pb0.01
DE/EN
PNA375
x
x
x
x
CuZn30
DE/EN
PNA374
x
All alloys are available in wire, bar, and strip format.
COMMERCIAL CONTACT