Press Release
Tim Kurth, Aurubis Bulgaria: We strive to set the standards for sustainability in the industry
Bulgaria | Monday, February 6, 2023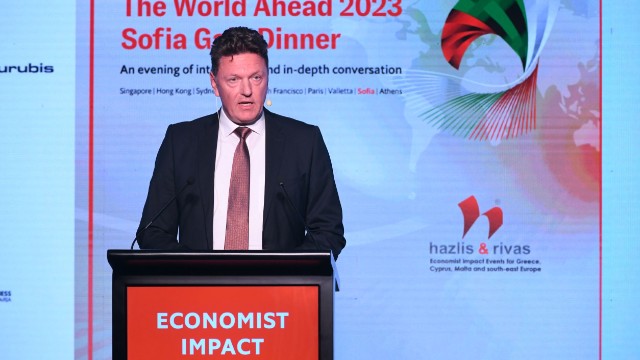 If the lives of our descendants are secured, then we have not wasted the present, the executive told The Economist's annual forum in the capital
We provide resources for the three megatrends of connectivity, digitalization and decarbonization as a leading metals producer and aim to set the standards across the entire supply chain in our sector. The really high goal is to be useful to the chain of values - human values. This is the meaning of sustainable development.
This was stated by Tim Kurth, executive director of "Aurubis Bulgaria" during the annual meeting "The World in 2023", which took place on February 6, 2023 in Sofia.
The event is part of The World Ahead international forum network of The Economist magazine and brought together President Rumen Radev, Acting Prime Minister Galab Donev, leading analysts and business representatives in the capital.
If the lives of our descendants are secured and fulfilled, then we have not wasted the present,
Kurt emphasized in his address at the forum. He participated in the discussion on sustainable models of development, innovation and transformation together with other business representatives. The executive director of "Aurubis Bulgaria" presented the company's long-term goals in the cyclical utilization of resources, energy efficiency and digitalization.
We live in a time where the concept of sustainability coexists with "crisis", "war", "energy shocks", "insecurity". It is our responsibility to overcome the circumstances by developing and implementing solutions to provide for those after us. These efforts require solidarity and we have no right to fail,
concluded Tim Kurth.