Press Release
Students are the future of industry
Bulgaria | Tuesday, January 17, 2023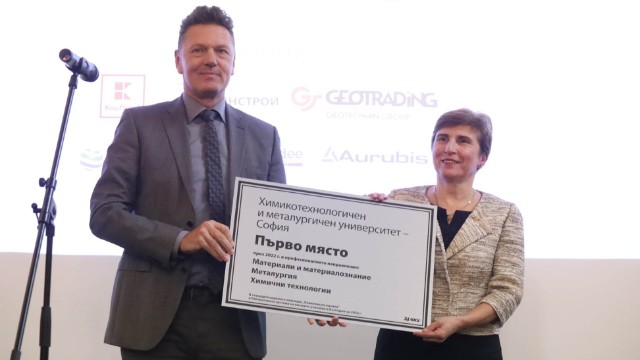 Tim Kurth, CEO of Aurubis Bulgaria, Awarded an Academic Oscar to UCTM
Your students are the future of the industry. This was stated by Tim Kurth, CEO of Aurubis Bulgaria, during the 2022 Academic Oscars ceremony, organized for the seventh consecutive year by the "24 Hours" newspaper.
He presented the award to Prof. Dr. Senya Terzieva, Rector of the "University of Chemical Technology and Metallurgy" - Sofia, which took first place in the professional fields of Metallurgy, Materials and Chemical Technologies according to the rating system of higher education institutions in the country. "It is an honour for me to present this prize today to the university, with which we have been successfully partnering for years,"said Tim Kurth.
Accepting the award, Prof. Dr. Senya Terzieva thanked Aurubis Bulgaria for the long-standing cooperation and for setting the highest standards in the industry.
The event was attended by The Vice President Iliana Iotova, Mayor of Sofia - Yordanka Fandakova, Minister of Education prof. Sasho Penov and ministers of education from the Bulgarian governments after 1990 as well as representatives of the Bulgarian business.
The ranking of universities is prepared for the 12th consecutive year by the Open Society Foundation on behalf of the Ministry of Education and Science. The ranking compares 52 higher education institutions within several professional areas, including scientific activity, learning environment, prestige and graduate student realization.