Blog post
Dr. Heiko Arnold and Executives Visit Aurubis Buffalo 9/20-9/21
Buffalo | Tuesday, September 27, 2022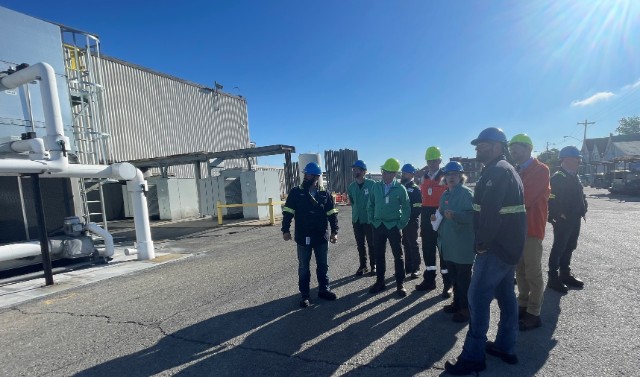 Aurubis Buffalo Welcomed Dr. Heiko Arnold to Buffalo Plant on 9/20/2022
This is the first time an Executive Board Member has visited the plant since Roland Harings, CEO came in 2019.
Dr. Arnold was joined by, Hannes Thome, Jan Drzymalla, Stefan Schrader, and Florian Pfeifer to get updates from Safety and Environmental and to meet with our senior leadership team.
So what did they think you ask?
Dr. Arnold was amazed at the number of improvements around the plant. The entire group was impressed by the level of engagement from employees when it came to their Yellow Belt projects and commitment to continuous improvement.
Hannes Thome, Head of Group Health & Safety and Behavioral Management at Aurubis AG was present during the 2019 visit as well. He expressed, again and again, the difference in culture and engagement across the plant compared to 2019.
As the group toured the plant with department managers on September 20th, 2022, they met with several of our recent Lean Six Sigma Yellow Belts who presented their 5S projects as part of their University at Buffalo certificate program.
The entire management team and senior leadership team at Aurubis Buffalo thanked everyone involved in making the Aurubis AG Visit a success.