Blog post
Aurubis Buffalo Attends Buffalo State University's Career & Internship Fair
Buffalo | Tuesday, March 14, 2023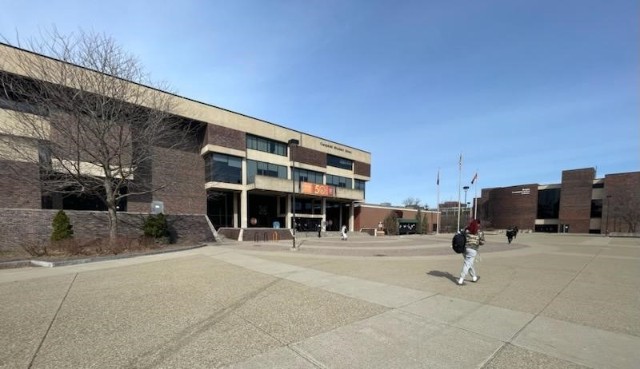 Buffalo State's Campbell Student Union hosted March 9's job fair.
Aurubis Buffalo Attends Buffalo State University's Career & Internship Fair
Aurubis Buffalo's recruiting team attended Buffalo State University's Career & Internship Fair on March 9th, 2023, in the Campbell Student Union. The team included PR Project Manager Shannon Polvino, Sr. HR Generalist Ashley Newton, and Sr. Project Engineer Robert Withrow, who loved meeting with some of the brightest up-and-coming professionals in the area.
"While recruiting for Aurubis Buffalo, we seek candidates who show interest in starting their career in an industrial setting," Polvino said. "Our hope for all of our interns is to transition them into a full-time, permanent role within the company."
Buffalo State University, one of SUNY's longest-standing institutions, has been producing high-quality candidates since it's founding, and Aurubis Buffalo has thoroughly enjoyed partnering with the institution for decades now.
Being one of 65 employers that attended Thursday afternoon's event, Aurubis had to be on their A-game if they were to attract the wandering eyes of the approximately 275 students who showed up. Luckily, a combination of freshly made signage and engaging employee representatives was more than enough to supply the company's table with a stack of student resumes for the advertised fields of information technology (IT), engineering, sales, and marketing.
One of the internship applicants, Daniel May, landed a paid Marketing Internship just a few weeks following the fair.
"Their table had the nicest folks, and their signage caught my eye," shared current Buffalo State senior Daniel May when asked why he applied with them. "It also helps that they were accepting applications and resumes for any professional field, not just the ones advertised on their banners."
Eager to build on their relationship with the nearby college, Aurubis took full advantage of the job fair's sponsorship program as a gold-level sponsor. They had priority table placement, earning them a prime spot with extra space to network with students.
"Well, I also noticed Aurubis because they were literally the first table students had to pass by when entering the job fair," chuckled May. "Their professional yet welcoming setup and manner is why I ultimately decided to keep returning to their table, however."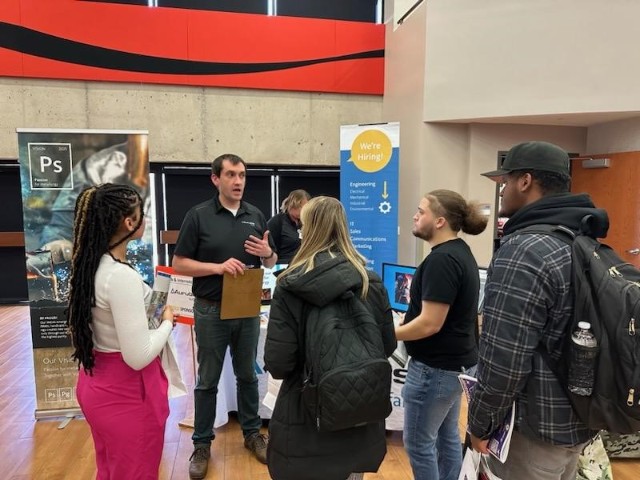 Aurubis Buffalo's own Robert Withrow, engaging with students at the job fair. The company's new signage is on display behind him.
Since their job fair outing, Aurubis has welcomed a few new members to the Aurubis family. Here at Aurubis, we take great pride in hiring from within the community. Partnering with local colleges is mutually beneficial; we can rely on their talent pool for top internship candidates, and schools like Buffalo State can count on us as a potential employer for their students.
Interested in working for Aurubis Buffalo? Apply on our general application page!